Visit Europe Media Exchange
The annual Visit Europe Media Exchange provides an all-under-one-roof forum in which travel journalists in the leading North American media markets can meet face-to-face with Europe's national, regional and city tourist offices, as well as with representatives of major European attractions and travel-service providers.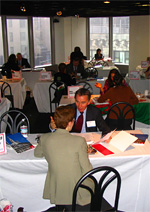 Registration and appointments are made via the VisitEuropeMediaExchange.com website, which provides all the details.

The Media Exchange, produced on behalf of the European Travel Commission, was launched in New York in 2003, expanded to include Los Angeles in 2005, and expanded again in 2006 with the addition of Toronto. In 2008, the Media Exchange opened in San Francisco, in place of Los Angeles, and in 2010 went to South Florida (Hollywood) for the first time.
Nearly 300 writers, editors and broadcast journalists took part in the 2010 shows. Our partner in production is Lois Gerber Travel Public Relations.
The next Media Exchange series will take place in October, 2011: in Toronto, Monday, Oct. 17; New York, Wednesday, Oct. 19; and Los Angeles, Friday, Oct. 21.
See how the 2010 shows were rated: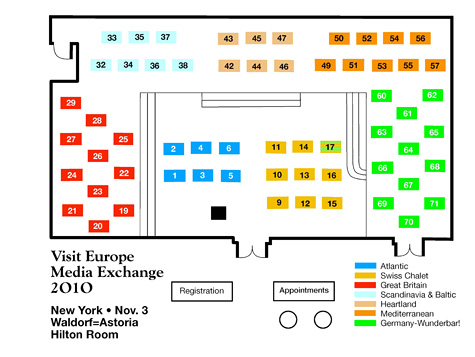 Click here to enlarge.
---
Donald N. Martin & Company • 369 Lexington Ave. • New York, NY 10017
TEL 212/ 922-0400 • Info@dnmartinco.com